Floating Candle Centerpiece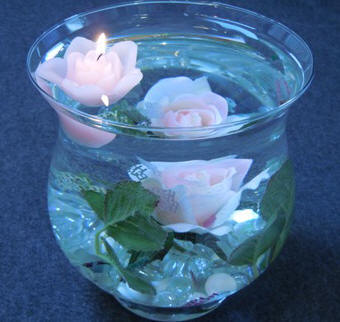 Materials:
Clear glass bowl, our sample was made with an 8" high bowl
Long stem artificial flower with leaves attached
Floating rose candle
E6000 (clear, waterproof craft adhesive)
Clear or colored stones or marbles
Birthday confetti or confetti to match your party theme
Distilled water - recommended but not 100% essential
If more than one flower comes on a stem, cut the stem so that you have only one flower on a long stem with a few leaves.
Using the E6000 glue, glue the edge of a few pieces of confetti to the rose and leaves. Let glue dry completely per package instructions.
Spot glue a few pieces of the confetti to the inside of the bowl using the E6000. Let dry.
Curl the end of the flower stem as pictured. If the bottom of your glass bowl has a recessed area, be sure the stem is wound tight enough to fit in the recessed area.
Place the flower inside the bowl and cover the stem and the bottom of the bowl with small stones or marbles.
Shortly before you are ready to use the centerpiece, fill the bowl with water. We recommend distilled water especially if you have hard water. Place the floating candle on top of the water and light just before the party begins.