Antler Headband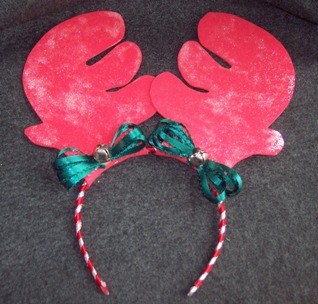 Here you will learn how to make reindeer antlers from an ordinary headband, ribbon and craft foam. Kids will love to wear them all Christmas season.
Materials:
Red or green craft foam
Thin Ribbon (1/8" to 1/4" wide) in red, silver & green
Silver glitter glue
Paint brush
Two 18mm bells
Hot glue gun
Attach one end of the red ribbon to the inside of the headband near one end with a dot of hot glue.
Wrap the ribbon around the headband leaving enough space to come back and wrap a second color of ribbon. When you get to the opposite end, hot glue the ribbon in place and cut off any extra ribbon.
Hot glue one end of the silver ribbon next to where you started the red ribbon.
Wrap the silver ribbon around the headband alongside the red ribbon.
Hot glue the silver ribbon in place when you get to the other end of the headband and cut off any extra ribbon.
Trace and cut out two antlers from craft foam.
Hot glue the antlers to the headband so that they overlap slightly as pictured.
Hot glue the antlers together where they overlap.
Using a paint brush, cover the antlers with glitter glue. Let dry completely. If you prefer, you can buy craft foam that has glitter on it and skip this step.
Cut a 2" piece of green ribbon and place it on your work surface. Wrap the green ribbon around four of your fingers six times. Slide the loops off your fingers and tie the center of the loops securely with the 2" piece of ribbon you cut earlier. Repeat to make a second bow.
Glue one bow at the base of each antler with hot glue.
Glue a bell to the center of each bow.