Poinsettia Pin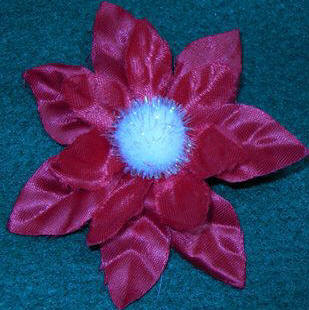 Great project to give as gifts or to sell at a craft fair. Easy to make and festive to wear!
Materials:
Small silk poinsettia, approximately 3" across
Bar pin
Glittery pompom 1/2" or 5/8"
Hot glue gun
Remove one flower from the stem. Usually this can be done by simply pulling the whole flower off the stem.
On the back of the flower, hot glue a bar pin close to the center of the flower.
On the front of the flower, cut off any plastic stamen (the little things that come out of the center of the flower) Be careful not to remove the whole center of the flower as the flower will come apart if you do.
Hot glue a glittery pompom to the center of the flower.