Bean Bags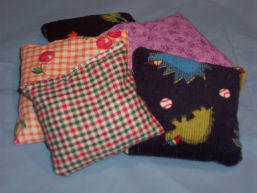 Great beginner sewing project or just make some to use up those left over scraps of fabric.
Materials:
Small amount of fabric
Needle & thread
Any one of the following:
… Poly Pellets (sold in craft dept. with doll supplies)
… Uncooked rice
… Un-popped popcorn
… Dried beans
Cut two 5" squares from fabric.
With right sides together and starting at least ½" before one of the corners, sew around using a 1/4" seam. Be sure to leave an opening for turning and filling.
Clip corners and turn right side out.
Poke corners from inside with a pencil or chopstick.
Fill most of the way with filling material of your choice.
Sew opening closed.