Tissue Flowers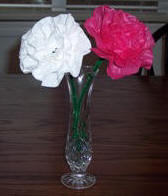 Materials:
Tissue Paper
Green Pipe cleaners (chenille stems)
Cut 4 pieces of tissue paper approximately 8 1/2" x 4" each
Lay the 4 pieces on top of each other
Starting at one of the 4" ends, fold the tissue accordion style. Each pleat should be approximately 3/4" wide.
Wrap one end of a pipe cleaner securely around the center of your folded tissue so that the folds are facing vertically (up and down).
Carefully separate each layer of tissue paper gently pulling it toward the center of the flower as you go.
The pipe cleaner becomes the stem of your flower.
Our white flower was made from 2 Puffs Ultra Tissues - cut to size - while our pink flower was made from tissue paper.
To display, put your flowers in a vase or put Styrofoam into a pot and stick the flowers into the Styrofoam. If you use the pot, I suggest covering the Styrofoam with moss, Easter grass or shredded tissue.