Scented Hot Pads & Coasters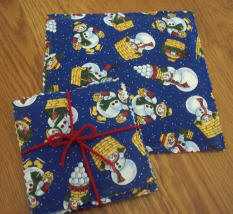 To use the coaster, simply place a hot cup of tea, coffee, hot chocolate, hot apple cider or whatever you like on the coaster and the heat from your mug will help release the cinnamon scent. Similarly, when a hot dish is placed on a scented hot pad, the scent of cinnamon will be enjoyed while protecting your table from the heat of the dish.
The directions for both the hot pad and coasters are basically the same. Therefore, the following directions are for the hot pad with changes in ( ) for the coasters.
Materials:
Fabric two 8" (5") squares
Muslin two 7" (4") squares
Felt one 7" (4") square
White glue (Elmer's or tacky)
Cinnamon 1/2 tbsp (1/2 tsp)
Pinking shears
1) Cut two 8" (5") squares from fabric of your choice using pinking shears. Cut two 7" (4") squares from muslin and cut one 7" (4") square of felt. I usually use white felt but you can also use a color that matches your fabric. I caution you not to use a dark felt with a light color material as the darker color will show through.
2) Follow the steps from the table below:
| | | | |
| --- | --- | --- | --- |
| Lay one of the squares of fabric right-side down on your work surface. | Center the piece of felt on top of the fabric square. | Center one muslin square on top of the felt. Place 1 tbsp (1tsp) cinnamon in the center of the muslin. Apply a bead of glue around the inside edge of the muslin. | Lay the second muslin square on top of the first one and press the edges down. Next, apply a bead of glue around the inside edge of your fabric. |
3) Place your second piece of fabric on top, right side up and press the edges down into the glue firmly.
If you are making the coasters and giving them as a gift, I suggest making an even number such as 4, 6 or 8; stacking them and tying a piece of yarn or ribbon around them for a more finished look.
Also, if giving the coasters and one or more hot pads together, stack them all on top of each other and tie them with yarn or ribbon.