Basic Crochet Scarf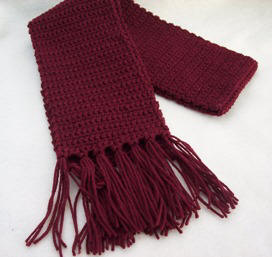 Materials:
5 oz Worsted weight yarn* (less yarn needed for child's scarf)
Size H crochet hook
Yarn needle
* Experiment with different types of yarn and different hook sizes to get a variety of different looking scarves.
Adult size:
Chain 19; turn
Row 1: sc in 2nd ch from hook, 1 sc in each ch; ch1 turn (18 sc)
Row 2: sc in each sc; ch1 turn
Repeat row 2 until scarf measures 52" or desired length. Knott off and weave ends back into the scarf with a yarn needle.
To make the fringe:
Cut 4 pieces of yarn 12" long.
Working across one end of the scarf, insert hook from back to front near one corner.
Working with 4 strands as one, fold strands in half.
Insert end of hook into loop created by fold.
Pull loop half way through scarf and remove hook
Pass ends through loop and pull taught
Repeat across end making sure fringe is evenly spaced.
Make the fringe the same way on the opposite end of the scarf.
Trim fringe so it is all the same length.
| | | |
| --- | --- | --- |
| How to attach fringe to your scarf: | | |
| | | |
Child size:
Chain 13
Follow instructions above working until scarf measures 36" or desired length. Work fringe with 3 strands instead of 4.
Idea: If you have extra yarn and extra time, make some scarves and donate them to a local charity!