Doll Blanket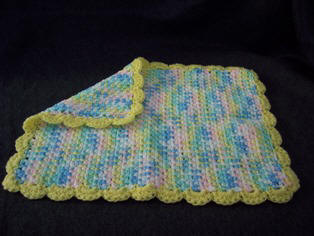 Materials:
3 to 4 oz Worsted weight yarn - main color
Small amount contrasting color for border; Worsted weight yarn
Size H crochet hook
Yarn needle
Chain 52 stitches.
Row1) 1 sc in 2nd ch from hook * ch1, sk1 ch, sc in next ch * repeat from star across row, ch1 turn
Row 2) sc in 1st space, * ch1, sc in next space repeat from * across row
Repeat row 2 until blanket is 16 1/2" long.
To make the shell border:
Attach contrasting color to one corner of the blanket and start by working across one of the ends.
Round 1) ch3; slst into ch between 2 of th sc *ch3, sk 1 ch space and slst into next ch space. Repeat from * around the outside of the blanket (on the sides of the blanket your slip stitches will be at the end of every third row)
Round 2) *5 dc in 1st ch3 space; slst in next ch 3 space. Repeat from * all the way around the blanket.
Knott off and weave loose ends back into blanket using a yarn needle.
Idea: You can turn this doll blanket into a baby blanket by starting off with a longer chain and completing it according the the above directions. Just make the chain as long as you would like the width of the blanket to be.