Basic Knitted Dishcloth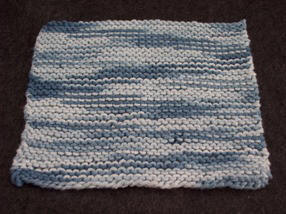 Materials:
1 Skein 100% cotton yarn
Knitting needles; size 7 (4 1/2 mm)
Yarn needle
1) Cast on 34 stitches
2) Knit each row until your dishcloth reaches 7 inches long.
3) Cast off
4) Use a yarn needle to thread an inch or two of the loose ends back into the dishcloth then cut the remaining loose ends.
Variation: In step #2, instead of knitting each row, work in the stockinet stitch until your dishcloth is 7" long.