Gumdrop Wreath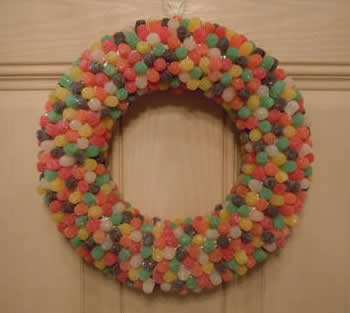 Materials:
4 pounds spice drops (small gumdrops)
300 Toothpicks - double pointed
12" Styrofoam wreath *
Two 18" pieces of 20 gauge wire
Clear acrylic spray paint
Optional: Glamour Dust by Deco Art
* The Styrofoam wreath should be the soft type not the harder smooth type as it would be too difficult to stick toothpicks into the smooth type.
Safety glasses are recommended while cutting the toothpicks.
Cover the Styrofoam wreath with foil. Once you place the foil on the front of the wreath, cut slits in the foil to make it easier to fold the rest of it around the back of the wreath form.
Twist the two pieces of wire together. This makes the wire nice and strong to hold the weight of the finished wreath. Lay the wire on your work surface and place the foil covered wreath on top of the wire. Bring the two ends of the wire together above the wreath so they are even and twist them together close to the wreath then twist the two loose ends together close to the ends forming a loop above the wreath. This will be your hanger.
Cut the toothpicks in half with a sharp pair of scissors. Refer to the photo for a suggested way to hold the toothpicks while cutting. If you hold the toothpicks as pictured below, it will keep them from flying around when you cut them. It is advisable to wear eye protection when cutting the toothpicks and the cutting should be done by an adult.
Stick the cut end of each toothpick into the bottom of a gumdrop. We found it helpful to prepare a bowl of gumdrops with toothpicks in them before assembling the wreath.
Start sticking the pointed end of the toothpicks into the foil covered wreath form. Place the gumdrops close together and cover all sides EXCEPT the back of the wreath.
Once the wreath is completely covered with gumdrops spray the gumdrops with clear acrylic spray paint to seal and protect the wreath from bugs. Optional: while the spray is still wet sprinkle Glamour dust on the gumdrops to add a sparkly sugar look to the finish. I found it helpful to work in a small area at a time (spray and sprinkle before moving on to the next section).
Idea: Tie a big bow on your wreath before hanging.