Astrakhan Stitch Crochet Stitch Pattern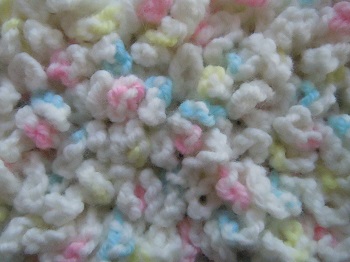 Recommended for the intermediate to expert crocheter, the astrakhan stitch is very soft and has a fun texture. I can't help but run my fingers through the loops on the front whenever I see an item made from this crochet stitch. It is not terribly difficult to crochet the astrakhan stitch but you must be able to identify the stitches easily to be successful with this pattern. It would be a great stitch to use when making a hat for a young girl.
Any weight yarn with the appropriate size crochet hook. Our sample was made using worsted weight yarn and a size H (5.0 mm) crochet hook.

Abbreviations:
ch = chain
dc = double crochet
rep = repeat
sk = skip
sl st = slip stitch
st(s) = stitch (es)
tch = turning chain
Any number of sts (add 2 for base chain)

Note: Work all rows with right side facing. For example work even numbered rows from left to right.

Row 1 (right side): Sk 3 ch (count as 1 dc), dc into each ch to end. Do not turn.
Row 2: *Ch 7, sl st into front loop only of next dc to right; rep from * ending ch 7, sl st into top of tch at beg of row. Do not turn.
Row 3: Ch 3 (counts as 1 dc), sk first st, dc into back loop only of next and each st of second to last row to end. Do not turn.

Rep rows 2 & 3.