Glitter Snow Snowman Ornament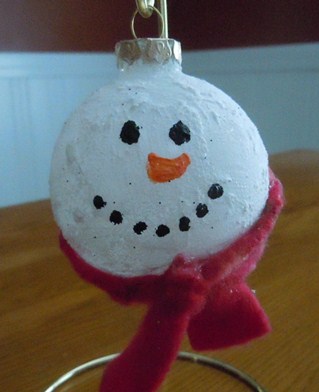 Aleene's Glitter Snow transforms a plain glass ball ornament into a festive snowman ornament. It's a fun Christmas craft and makes a great gift. Perfect for an ornament exchange.
It is helpful to have an ornament stand to hang your ornament on while it dries.
Craft Supplies:
Clear glass ball ornament
Aleene's Glitter Snow
Foam applicator (foam brush)*
12" x 3/4" strip of fleece cut on the bias so it stretches lengthwise
Fabric paint in squeeze bottles, black and orange
Hot glue gun and glue sticks
*You can use a popsicle stick or plastic knife in place of the foam brush.
Clean the outside of the glass ball preferably by wiping it down with rubbing alcohol. Make sure it is completely dry before proceeding.
Using a foam applicator, apply a coat of Aleene's Glitter Snow to the outside of the ball. Don't try to make it smooth. It is good if it has a bumpy uneven texture to it. Let dry completely.
Make a scarf by hot gluing a strip of fleece to the bottom portion of the ornament and tie in a knot.
Using black paint in a squeeze bottle, make two dots for eyes and several dots for the mouth. Switch to orange paint and draw on a carrot nose. To do this, start where you want the widest part of the carrot to be and start squeezing the paint out as you pull to the right or left and release pressure as you do so. Let dry and then your snowman is ready to be hung on the tree.