Paper Mache Santa Ornament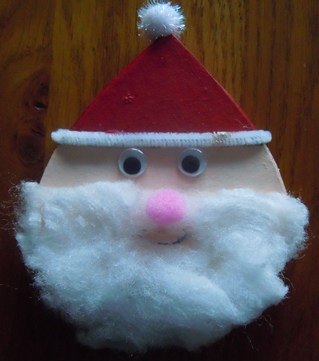 If you are looking for Santa crafts for the kids to make, we have one that is lots of fun! Start with a heart shaped paper mache ornament. Add some paint, pompoms and batting. It's a fun paper mache craft for the whole family. After the kids make these Santa ornaments, have them sign and date the back of the ornament.
Note: As you make Santa, you will hold the heart paper mache ornament upside down so that the bottom point of the heart will be the top of the hat.
Craft Supplies:
Heart shaped paper mache ornament
6" x 4" piece of batting
1/2" pink pompom
1/2" white sparkle pompom
Two 12mm wiggle eyes
White pipe cleaner
Acrylic paint, peach & red
Black marker
Tacky glue
Monofilament
Paintbrush
Paint the front of the heart and the side edges with the peach (flesh colored) paint. Let dry.
Paint the top 1 1/2" of the Santa red for his hat. Let dry. You may need two coats.
Once the paint is dry, glue a white sparkle pompom to the tip of Santa's hat and glue a piece of white pipe cleaner along the line where the peach and red paint meet. Cut the pipe cleaner long enough so that you can bend the ends around to the back of the heart.
Glue a piece of batting to the bottom of Santa's face but before you do, cut out an opening for his mouth. Once the beard is glued on, trim it so that it looks nice and neat.
Glue on a pompom nose and two wiggle eyes then draw a mouth in the opening you left in the batting.
Cut a piece of monofilament or ribbon and tie the ends in a knot. Glue the knot to the back of the ornament as a hanger. If the heart shaped blank ornament came with a gold thread for hanging, cut it off as it will be coming out of the bottom of Santa's face.