Craft Foam Penguin Note Holder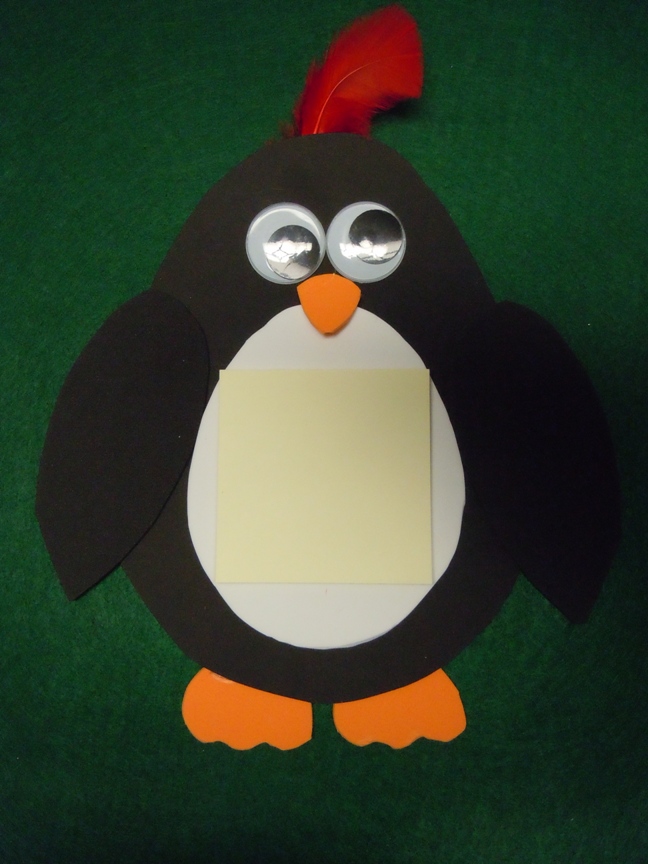 Use the attached pattern to make a penguin that is a magnet and a note holder all in one. You can hang him on your frig so you always have paper handy to write a note.
Craft Supplies:
Craft foam; white, black & orange
Two 30mm eyes
One feather
Post-it note pad
Tacky glue
Trace and cut out one penguin body and two wings from black craft foam.
Trace and cut one belly from white craft foam. Trace and cut two feet and one beak from orange craft foam.
Glue the belly to the penguin body so that the top of the belly is approximately 2 1/2" below the top of the penguin and so that it is centered side to side.
Glue one wing on either side of the belly as pictured.
Glue the top edge of the post-it pad to the penguin's belly.
Turn the penguin over and glue a 3" strip magnet to the back of the body. Glue a feather to the top of the penguin's head so that it extends above the penguin's head. You may want to tape it in place with a piece of masking tape or painters tape to keep it from moving while the glue dries. No need to remove the tape though as long as it doesn't show on the front side.
Flip the penguin back over and glue on his eyes. Glue the beak on just below the eyes so that the point of the beak overlaps his belly.
Lastly , glue your penguin's feet on. The top edge of the feet should be glued behind the lower edge of the penguin body so that his toes show on the front.
You will need Acrobat Reader to view the pattern as it is a PDF.

Pattern