Crosshatch Crochet Stitch Pattern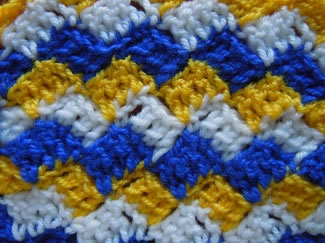 The crosshatch crochet stitch is worked with three colors worked in alternating rows throughout. It is worked with a combination of chain stitches, double crochet and single crochet. Although it is made up of these basic crochet stitches, you will need to have some experience to be able to comfortably complete this pattern. For that reason, I recommend this pattern for those with intermediate crochet experience.
Any weight yarn in three colors along with the appropriate size crochet hook. Our sample was made using worsted weight yarn and a size H (5.0 mm) crochet hook.

Abbreviations:
ch = chain
dc = double crochet
rep = repeat
sc = single crochet
sk = skip
st(s) = stitch (es)
tch = turning chain
Multiple of 7 sts + 4 (add 3 for base chain)

Work 1 row each in colors A, B and C alternately throughout.

Row 1: Skip 2 ch (count as 1 dc), 2 dc into next ch, *sk 3 ch, sc into next ch, ch 3, dc into each of next 3 ch; rep from * to last 4 ch, sk 3 ch, sc into last ch, turn.
Row 2: Ch 3 (count as 1 dc), 2 dc into first sc, *sk 3 dc, sc into first of 3 ch, ch 3, dc into each of next 2 ch, dc into next sc; rep from * ending sk 2 dc, sc into top of tch, turn.

Rep Row 2.