Easter Cross Magnet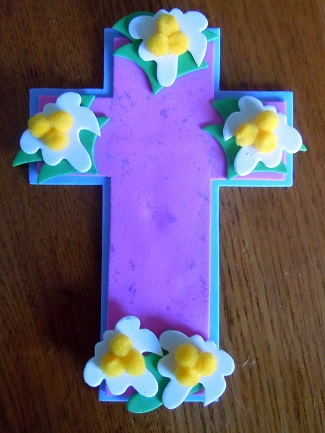 Decorate your refrgerator this Easter with a beautiful cross magnet embelished with lilly flowers. It is made from craft foam and pompoms and is easy enough for kids to craft. All it takes is some tracing, cutting and gluing which are all favorite kids activities!
Craft Supplies:
Craft foam, blue, pink, white and green
15 Yellow 1/4" pompoms
Tacky glue
Silver glitter glue
1" or larger piece of magnet
Trace and cut out the larger size cross from blue craft foam and the smaller size cross from pink craft foam.
Attach a piece of magnet to the back side of the blue cross.
Glue the pink cross on top of the blue cross. Spread a think layer of silver glitter glue on the pink cross.
Trace and cut out 4 green leaves. You will notice that one is differnet than the other three. Glue this one to the bottom of the cross. Glue the other three to the top and sides as pictured.
Trace and cut out 5 white flowers. Glue one on top of each of the three upper sets of leaves and glue the other two at the bottom of the cross.
Glue 3 yellow pompoms to the center of each flower.
You will need Acrobat Reader to view the pattern as it is a PDF.