Floral Gift Box Centerpiece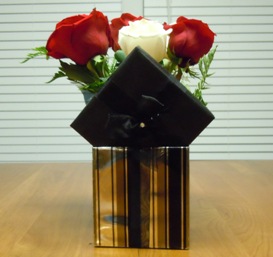 Floral centerpieces can be used for any occasion. This centerpiece was designed for an evening wedding reception but by simply changing the paper on the gift box you could use this same style centerpiece for baby showers, wedding showers, Christmas parties, anniversaries etc.
Roses can be expensive so feel free to change the type of flower. Carnations are a great flower for centerpieces as you can get them in almost any color and they last much longer than many other flowers.
Materials:
Gift box with a lid. 5" tall 4 1/2" wide and deep
Gift wrap; we used solid black for the lid and silver and black striped foil paper for the box
Silver foil tissue paper
A vase that fits inside the box; our vase is approximately 8" tall
Six roses with greenery
1" wide shear ribbon
Double sided tape
A few stones for weight
Tacky glue
A small jewel or gem
Thin white cardboard or card stock
Wrap the box. When wrapping, use the double sided tape where the seams meet so that the tape is not visible. At the top of the box, trim the paper so that when you fold it to the inside, it only has about 1/2" on the inside of the box. Secure the paper with either double sided tape or a glue stick.
Attach some 1" shear ribbon to the outside of the box. To do this, tape the end of the ribbon just inside the box in the middle of one of the sides and bring the ribbon across the bottom and up the opposite side securing it just inside the edge of the box.
Repeat step 2 for the other two sides. The ribbon is shear so it didn't show up well in the picture but it gives a very eloquent look to the finished centerpiece.
Cut a 3/4" strip of thin white cardboard or card stock and tape or glue it over the unfinished edges of the paper and ribbon inside the top edge of the box.
Cover the box lid and attach the ribbon the same way you covered the box.
Make a bow and glue it to the center of the top of the box and glue a jewel or gem in the center of the bow. It may be helpful to use a hot glue gun for this part.
Place a sheet of shiny silver tissue paper inside the box then place the vase inside the box so that the tissue is covering the vase. Put a good size handful of rocks in the bottom of the vase for weight.
Arrange the flowers inside the vase and fill the vase with water.
Tuck the lid of the box into the box as pictured above.