Hot Packs/Cold Packs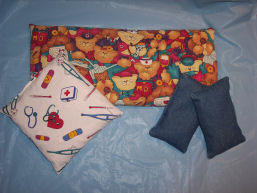 Large Hot Pack

Materials: Two 17" x 7" pieces of material* (Ĺ yd of fabric makes 3)
Whole kernel cracked corn (found where animal feed is sold)


1) Cut out two pieces of fabric approximately 17" x 7".

2) With right sides together, sew around using a 1/4" seam and leaving a small opening for
turning and filling.

3) Clip the corners and turn right side out. Use a chop stick or pencil to poke the corners from
the inside so they will be sharp.

4) Fill 2/3 of the way with the corn.

5) Sew opening closed (I do this by tucking the raw edges inside and machine stitching over the
edge).

*Material should be approximately the weight of denim used for jeans. You want to be able to
feel the heat thru the material but it canít be too thin. Some fabric intended for medical smocks
is thick enough and offers a great variety of prints.


Small Hot Packs

Materials: Two 8" x 8" pieces of fabric*
Whole kernel cracked corn
| | | |
| --- | --- | --- |
| | Follow directions for Large Hot Pack only use the smaller fabric and fill it 3/4 of the way full. | |
Hand Warmers

Materials: Four pieces of fabric 6 1/4" x 4" each
Whole kernel cracked corn


Great for keeping little hands warm at the bus stop!

Make a pair following the same directions as for the Large Hot Pack using two pieces of 6 1/4" x 4" material for each warmer. When filling the hand warmers, fill them full leaving enough room to sew the opening closed.

Hot/Cold Pack Instructions


Heat Small Pack in microwave on high for up to 2 minutes and Large Pack for up to 3 minutes.
Can also be kept in freezer as a cold pack.

Hand Warmers: Heat two together in microwave on high for up to 1 minute 30 seconds.

Cool completely before reheating.