Inspirational Magnet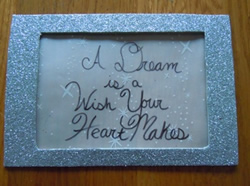 You can use any quote that is close to your heart for this craft project. We used a famous quote from Disney. Our inspirational magnet is a fun craft for kids and would make a great Mother's Day gift. Glitter craft foam comes in a variety of colors so you can choose your favorite one for this craft.
Craft supplies:
Glitter craft foam 4 1/2" x 6 3/4"
Velum
Black marker
Tacky glue
Magnetic strip or button magnet
Cut a 4 1/2" x 6 3/4" rectangle from the glitter craft foam.
Cut a 3 1/2" x 5" opening in the center of the rectangle.
Cut a piece of velum that is a little larger than your opening and glue it to the back of your glitter frame. Be sure that the front side of the velum is showing on the front side of the frame.
With a permanent marker, write "A Dream is a Wish Your Heart Makes" on the velum.
Adhere either a magnetic strip or a button magnet to the backside of your frame. Be careful to place the magnet so that it can't be seen through the velum.