Craft Foam Kids Tie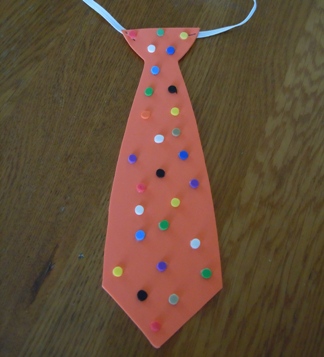 Are you looking for a really fun craft for kids? You have found it! Kids will love to make and wear this crazy necktie made from craft foam. I designed it for a group of Boy Scouts to make and wear at a Mad Hatter tea party.
Our craft foam hat is a great compliment to this tie and was designed for the same group for their Mad Hatter tea party. Instructions coming soon!
This tie would be a great addition to a Fred Flintstone costume.
Craft Supplies:
11" x 5" piece craft foam
15" piece of 1/4" wide elastic
Scraps of craft foam
White glue; tacky or Elmer's
Hole punch
Stapler
Using the attached tie pattern, trace and cut one tie from craft foam.
Cut a 15" piece of 1/4" wide elastic and staple one end of the elastic to each side at the top of the tie.
Using scraps of different colors of craft foam, punch holes in the craft foam with a hole punch. Save the little circles you punch out for step #4.
Randomly glue the circles you punched out of the craft foam to the front side of the tie. We glued craft foam dots on top of the staples to make them less noticeable.
To wear your tie, simple stretch the elastic and slide it over your head. You wear this tie around your neck as you would a necklace.
You will need Acrobat Reader to view the pattern as it is a PDF.