Foam Core Shamrock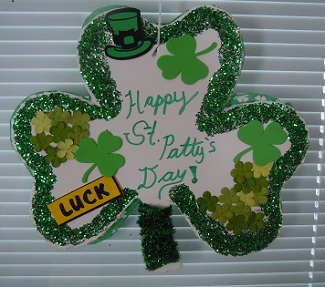 Make a lucky clover from foam core board and glitter to hang in your home this Saint Patricks Day! It's a fun craft for the whole family. You can use string to hang it or if you want to display it on a window or mirror, you can get a suction cup with a hook for easy hanging.
Craft supplies:
Green glitter
Foam core board 10" square
Green Sharpie (permanent marker)
Green sparkly pipe cleaner
Floral embellishments - found in the scrapbooking department
Craft foam shapes in assorted styles
Crochet thread or other thin string for hanging or a suction cup with a hook
Optional: 10" square piece of green fabric
Using the attached clover pattern, trace it onto a piece of foam core board and cut it out using a craft or utility knife.
Optional: Cut a piece of fabric from this same clover pattern and use the tacky glue to attach it to the back side of the shamrock. This will give it a nice finished look from the backside if you are hanging it in a window.
Wrap a sparkly green pipe cleaner around the stem of the clover.
Spread a layer of tacky glue around the border of your shamrock and sprinkle green glitter generously on top of the glue. Shake off any excess onto a piece of paper. Pour the extra back into your container so it doesn't get wasted.
Write: Happy St. Patty's Day!" or other Irish wish in the center of the shamrock using a green Sharpie.
For a finishing touch, glue some green floral embellishments and some craft foam shamrocks and other shapes onto your shamrock.
To hang your shamrock either

poke a hole in the back of the shamrock near the top (going only half way through the foam core) and insert the hook portion of the suction cup into this hole
poke a hole from front to back going all the way through the foam core and thread a piece of crochet thread or string through the hole then tie the ends in an overhand knot
You will need Acrobat Reader to view the pattern as it is a PDF.

Shamrock Pattern