Tinsel Ornament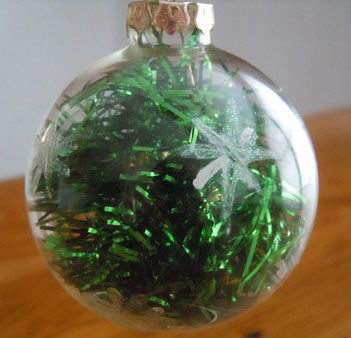 Looking for a simple Christmas craft idea? If you get some clear glass ball ornaments, you can make many different ornaments out of them.
The photo does not do this Tinsel Ornament justice. It has painted stars on the outside that just glimmer under the Christmas tree lights.
Craft Supplies:
6" Piece of tinsel*
2.5" Clear glass ball ornament
Fabric glitter paint in a squeeze bottle; any color you choose.
*The inexpensive tinsel works best for this project as it is nice and soft (not too stiff).
Remove the top from the ornament.
Cut three 2" pieces of tinsel and put them into the ball ornament one at a time. You can use a chop stick or pencil to help push them in or to move them around in the ornament.
Replace the cap and make sure the outside of the ornament is clean and dry. A good way to clean the outside of the ornament is to wipe it down with rubbing alcohol and let it air dry.
Using paint in a squeeze bottle, draw stars on the outside of the ball. Let dry completely before hanging on the tree.
Tip: If you have an ornament stand, place your ornament on it until dry.