Nothing brings a bigger smile to a Mom's face than to receive something hand made from a child. The child in turn fells a real sense of pride in giving something special he or she made. I feel that Mother's Day should not be a day for big expensive gifts but rather a day for giving something thoughtful and heart felt.
Below are a few suggestions of gifts that kids can make with little or no help (depending on age). Any and all of the projects/gifts are sure to become cherished keepsakes.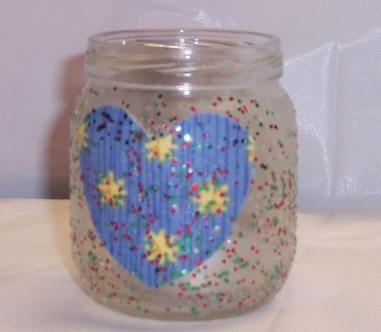 The first three projects I am showcasing here have all been made multiple times in school with first and second grade classes but could be completed by younger children as well.
Our tea light holder is made by painting glue on the outside of a recycled baby food jar, placing a fabric heart in the glue then sprinkling the outside of the jar with glitter or salt. You can find hints on using glitter with children on our hints and tips page.
Next up is a flower clip magnet which can be used to hold a shopping list, picture of whatever mom wants to show off on the refrigerator. A clothespin holds the paper/picture on the frig and the flower portion is made from craft foam and a pompom. Great project for practicing cutting and glueing.
Your ads will be inserted here by
Easy AdSense.
Please go to the plugin admin page to paste your ad code.
Scented hot pads and coasters are great for any occasion. Simply changing the fabric used to make the coasters/hot pads completely changes the look of the finished project. For this project it is helpful to cut the fabric squares ahead of time for children and let them have fun assembling and gluing the finished project together.
Flower napkin rings made from felt can be assembled by any age child but younger children will need help cutting out the felt shapes. Mom will feel special when served dinner with a lovely flower napkin ring on hand.
Making a pot of flower pens would be best suited for children that are at least in the fourth grade as a little more skill will be needed to complete this project but it is a gift that can be used daily at home. Imagine how beautiful this pot of pens will look in the kitchen and how practical it will be to always have a pen handy.
Are you looking for a way to use up some old CD cases? If you are, this project is just for you. Turn those old empty cases into a picture frame with the help of some decorative paper.
A few more suggestions of gifts kids can make are:
Check out
Craft Elf
for more Mother's Day craft projects including sewing projects and projects for adults to make.
~Happy Crafting