Description
Baby Shower Favor*
After the baby shower these Boo Boo Bunnies can help chase away a boo boo. Simply place a freezer ball or ice cube inside the belly section and hold it on your boo boo.
*This item should not be used by children under three years of age as it contains small pieces which pose a chocking hazard.
Materials and Supplies
Craft Supplies:
Black button thread or quilting thread
Washcloth*
1/4" pink pompom
1/2" white pompom
Two 7mm googly eyes
Scrap pink felt or color to match washcloth
12" piece of thin ribbon
Elastic
Tacky Glue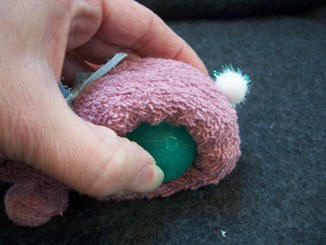 To use the Boo Boo Bunny, place either a piece of ice or a freezer ball into the space in the body of the bunny and hold it on a boo boo to make it better.
Never put ice directly on the skin.
*Inexpensive washcloths work well as they aren't too thick and bulky when rolled.
Craft Instructions
Lay the washcloth flat on your work surface. Starting at one side, roll the washcloth until you get to the center of the washcloth. Roll the opposite side in to meet the first roll in the center of the washcloth.
Fold one end in about 2" form the end as pictured.
Fold the rolls again so that the fold you just made is even with the opposite end.
Wrap an elastic around the washcloth as pictured to hold it in place.
Tie a 12" piece of ribbon around the elastic and tie the ribbon in a bow.
Cut three 2 1/2" pieces of black button thread. Holding the three pieces as one, tie a knot in the center of the thread.
Glue the knot to the center of the face and glue a pompom on top of the knot as a nose.
Glue the googly eyes on above the nose. Cut two triangles out of felt for ears. The triangles should be 1 3/4" tall and 3/4" wide at the base. Glue the ears to the top of the head.
Finally, glue a pompom on the end opposite the head for the tail.