Description
Have fun painting and gluing to make this Patriotic Star Napkin Holder. It will make a great decorative touch to your 4th of July BBQ table.
Materials and Supplies
Craft Supplies:
Three 15/16 x 3 1/2" (24 mm x 89mm) Styrofoam stars
6" x 5" piece of 7/16" thick Styrofoam
Paint brush
Hot glue gun
White glue
Craft knife (or steak knife)
Glamour Dust by DecoArt (very fine glitter)
6" x 2" piece of blue felt
Acrylic paint red, white and blue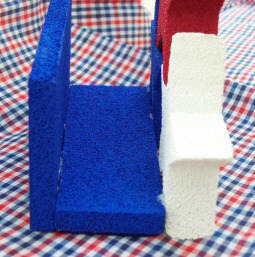 Craft Instructions
Cut the Styrofoam into two pieces; one 6" x 2" and the other 6" x 3"
Paint both Styrofoam rectangles with the blue paint. Paint all the sides of the larger piece but leave one of the 6" x 2" sides unpainted on the smaller piece. Let dry completely.
Paint one star red, one white and one blue. While the paint is still wet sprinkle one of the flat sides of each star with the Glamour Dust. Let dry completely
Glue the felt to the unpainted side of the smaller rectangle using white glue.
Lay this rectangle on your work surface felt side down. Stand the larger rectangle up so that it buts up against the smaller rectangle as pictured and glue in place with the hot glue gun.
Stack the stars into a pyramid and hot glue them together. Be sure that the glittery side of each star is on the same side.
Using hot glue, attach the stacked stars to the bottom piece of Styrofoam so the glitter side is facing out.
Now all you have to do is add the napkins and your 4th of July Napkin holder is ready for your BBQ table.