Description
You'll have the cutest Halloween party favors in town with our simple Pumpkin Party Favors. You decide what prize to hide inside this little pumpkin.
Materials and Supplies
Craft Supplies:
24" Orange paper twist
4" Green paper twist (I used metallic green)
Green pipe cleaner (chenille stem)
Tissue paper
Small prize
Black permanent marker
*If you have never worked with paper twist before, don't worry. It is actually pretty easy. To untwist, start by twisting the paper in the opposite direction that it is now. Then, gently take the edges and pull them open. When you purchase the paper twist, it comes tightly twisted and is less then 1/4" wide. Once you untwist it all the way, it is about 4" wide. Just work slowly to prevent the paper from ripping.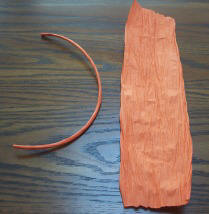 Craft Instructions
Cut two 12" pieces of orange paper twist.
Untwist both pieces of the paper twist*
Lay one piece of the untwisted orange on your work surface and lay the second piece across the first one so that it resembles a cross.
Take a small prize - it can be anything that isn't too large such as a 1oz can of Play-Doh, a mini-rubber ducky or some candy - and wrap it tightly in two to three sheets of tissue paper so that it forms a ball that is about 2 1/2" round.
Place the tissue ball with prize inside on the center of the two pieces of orange paper twist.
Bring the four ends up and over the ball of tissue so they meet on top. Trim the ends of the paper twist so that they are about 1 1/4" above the tissue ball.
Cut a 4" piece of green paper twits. Partially untwist it so that it is about 1' wide. Fold it in half and place it over the ends of the orange paper twist and gather tightly at the base of them stem.
Tightly twist a 6" piece of pipe cleaner around the stem to keep the pumpkin and stem together. Wrap the ends of the pipe cleaner around a pencil then slip the pencil out. This will give your pipe cleaner a curled look.
Using a fine tip permanent black marker, draw a face on your pumpkin.
| | | |
| --- | --- | --- |
| Choose a prize | Wrap it in tissue | Place it in the center of the paper twist cross |
Ideas:
Instead of just handing out the pumpkins, try sending the kids to the "Pumpkin Patch" to "pick" their pumpkin. To do this, place all the pumpkins on the floor or on the lawn and instruct the children to enter the pumpkin patch and pick their pumpkin.
To make some pumpkins strictly for decoration, omit the prize and just fill the center with a ball of tissue paper.