Description
I recently attended a baby shower and received this unique and useful party favor. I was so impressed that I am sharing it here with all of you! Although it was a baby shower favor, it also would make a great party favor for a birthday party.
Idea provided by: Patty of Massachusetts
Materials and Supplies
Craft Supplies:
Individual size bag of peanuts
Individual size bag of Cracker Jacks
Small soft baseball*
Curling ribbon
5" x 11" Cellophane bag
* The soft baseballs can be ordered on line personalized.
Craft Instructions
Place the peanuts and Cracker Jacks in the cellophane bag so they are back to back and the front side of each is facing outward.
Place the ball on top of the peanuts and Cracker Jacks
Tie the bag closed with two 22" pieces of curling ribbon and curl the ends of the ribbon or simply close the top of the bag with the twist ties that come with the cellophane bags.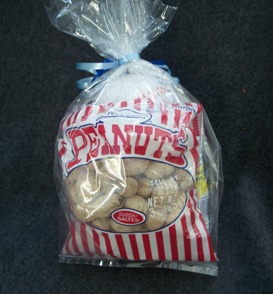 Back side of Party Favor
If you can't find a place to purchase personalized baseballs or if you only need a few, you can personalize your own. Purchase the type of baseball that you would like and use a paint pen or permanent marker to customize it.You will want to use a fine or ultra fine tip.