Description
There are many patterns out on the web to make scarves using Sashay yarn by Red Heart. Some are quite difficult to follow and others are missing very important information or tips.
I have done a lot of experimenting and research and have gathered what I feel are the best tips to successfully completing a ruffle / frilly scarf with this very unique yarn. I use the word yarn very loosely as this product is not like any other yarn. It is more of a lace which comes in a ball.
When you crochet with Sashay, you actually work into the holes in the top edge instead of wrapping the yarn around your hook as you do in traditional crochet.
Read on for a detailed explanation!
Materials and Supplies
Approximate finished size = 52" long
Crochet supplies:
1 Ball Red Heart Boutique Sashay yarn 3.5oz
Size K* (American) crochet hook
*Our sample was made with a size K crochet hook but you can use any size you have on hand. A larger hook (size J through N) is easier to work with than a smaller hook. There is no need to worry about gauge with this project.
Ball of Sashay after it has been opened up and wound around the label - see tip #1.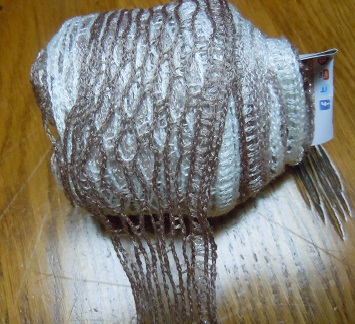 Craft Instructions
Before you get started, you will notice that this yarn comes bunched up. Pull out a piece and use your fingers to gently stretch it out so that it is fairly flat. Note that one edge has a glittery thread that runs through it - this will be the bottom edge. You will work with the top edge (not the one with the glittery thread).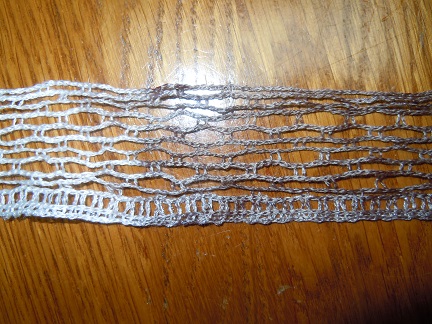 Tip #1: After making several of these scarves, I found it was easier to take a few minutes before starting to crochet to open up the sashay and wind it into a new ball. The way I did this was to remove the wrapper, untwist the sashay and wrap it around the wrapper. Just wrap the sashay in one direction around the wrapper (don't go in all different directions as you would when making regular ball of yarn) If you take a few minutes to do this before you begin it will significantly speed up the time it takes to actually crochet the scarf.
Tip #2: Ignore the top row of holes and use the row directly below it. This will make your crochet stitches much easier to see therefore much easier to work with. The first scarf I made, I worked into the very top row and it was quite difficult to find the stitches amongst the ruffles especially if I put my work down for any reason. Your eyes will thank you for using the second row.
Tip #3: It is very important that you skip every other hole throughout this whole project. That is what makes the yarn ruffle!
Tip #4: When crocheting this scarf, always insert your crochet hook from front to back.
Tip #5: When you reach the end of a row, always turn your work in the same direction. This is important to ensure that your ruffles are on both the front and back of the scarf.
Lets get started ~
Count over three holes and fold the yarn back on itself at this point. For the first three stitches, you will be working through two layers. This is to give the end of the scarf a nice finished look and hide the cut end.
Chain (ch)5 - To do this, insert the crochet hook in the first hole from front to back (remember you will be going through two layers), skip the next hole, insert the hook from front to back into the next hole. Pull the first stitch up and over the second stitch just as you would in a regular chain stitch. Repeat this 4 more times. You are going to be working with 4 stitches in each row. The extra chain will be made at the end of each row to keep it nice and loose when turning your work.
Turn. Skip your first ch, single crochet (sc) in each of the other 4 chain stitches, ch 1 turn
For each of the remaining rows, work one sc in each sc of the previous row, ch 1 turn.
When you complete a row and don't have enough sashay to complete another row, pull the remaining strand of yarn through the last stitch. Tie a knot close to your work and cut off the extra about 1/4" from the knot. This knot will not show with all the ruffles.
Close up of crochet frilly scarf ~