Description
Are you hosting a football party? Whether your football party is for a child's birthday party, to celebrate a high school or Pop Warner football game or for a Superbowl party, having football decorations will help set the party mood.
Our football garland is sewn from felt and is an inexpensive way to decorate for your next football party.
Materials and Supplies
Sewing Supplies:
Brown felt
White felt
Thin white ribbon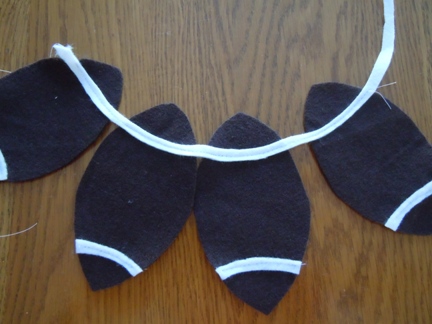 Craft Instructions
Cut out at least 12 football shapes from brown felt.
Cut strips of white felt approximately 1/4" wide.
Stitch a strip of white felt on each end of the football approximately 3/4" to 1" from the tip curving it slightly as you stitch. It is easiest to cut long strips of the white felt and just keep feeding the footballs through the sewing machine then cut them apart after they are all sewn. Do all the stripes on one end then go back and do all the stripes on the second end.
Cut two 24" pieces of thin white ribbon. You can adjust the length of the ribbon depending on where you will be hanging your garland. We are tying our football garland to a railing.
Now you will be stitching down the center of each football to attach the lacing and to join all the footballs in one step. On your first football, place an inch of ribbon behind the first end of football that is going through your machine. This will attach the ribbon to the footballs. As you stitch down the center, lay out the "football lacing" by placing a thin strip of white felt lengthwise in the center of the football with two shorter pieces across the first piece. Refer to photo for placement. Stitch down the center of the football from end to end stitching right over the white felt strips.
Do not remove the first football from the sewing machine. Start stitching down the middle of the second football laying down the white strips of felt as you did with the first football. Keep adding footballs until the garland is the length you want. When you are stitching the lacing on the last football, place one end of the second piece of thin white ribbon (from step 4) under the end of the football being sure to catch the ribbon in the stitching.
Use the ribbons to tie the garland where you want it hung.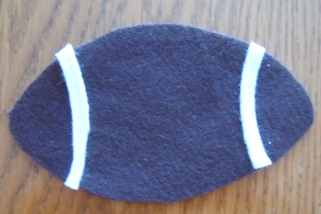 | | |
| --- | --- |
| You will need Acrobat Reader to view the pattern as it is a PDF. | |