Description
Kids love to make funny glasses to wear for special occasions and holidays. Our heart shaped glasses are easy to make and perfect for Valentines Day.
You can make these heart shaped glasses from craft foam hearts, glitter and pipe cleaners.
Materials and Supplies
Craft Supplies:
Two pipe cleaners; 1 white, 1 red
Hot glue gun and glue sticks
White glue
Red glitter
Self stick craft foam hearts* one 1 1/2" white heart; two 2 3/4" x 3 1/4" hearts with heart shaped opening in center.
*If you can't find the pre-made hearts in the right size, you can use the attached pattern to cut out your own.
Craft Instructions
It is easier and less messy to use self-stick craft foam but you can use regular craft foam and spread a layer of white glue on it before applying the glitter.
Peel the paper off the hearts that have the centers cut out. Lay both of these hearts flat on your work surface, sticky side up so that they are touching as pictures.
Glue the white heart on top of where these two hearts meet. Even if all the hearts are self stick, you should glue this heart on with either tacky glue or hot glue. It will make them much more durable when they are being worn.
Cover the sticky area on the two center-less hearts with glitter.
Twist a white pipe cleaner and a red pipe cleaner together. Cut this twisted pipe cleaner in half. Each half will be one of the arms of the glasses.
Bend 3/4" on one end of one of the pipe cleaners at a right angle and glue this 3/4" piece to the back side of the glasses as pictured. Use a hot glue gun to attach the pipe cleaners to the craft foam hearts. Repeat with the other pipe cleaner.
Now bend the other end of the pipe cleaners so that they will go around your ears.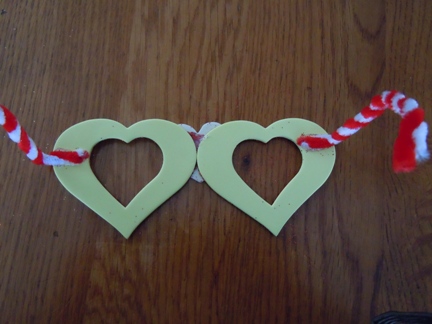 Check out our hints and tips section for tips on using glitter.
| | |
| --- | --- |
| You will need Acrobat Reader to view the pattern as it is a PDF. | |