Description
Make a tutu for girls of any age. There is very little sewing involved in making this tutu. You only have to stitch the elastic to form a ring and the rest is just tying knots.
By learning to make a tutu in this fashion, you can adjust it to fit any size you like by simply changing the length of the elastic and the length of the tulle strips. You can very easily make a baby tutu with this method of tutu making.
Materials and Supplies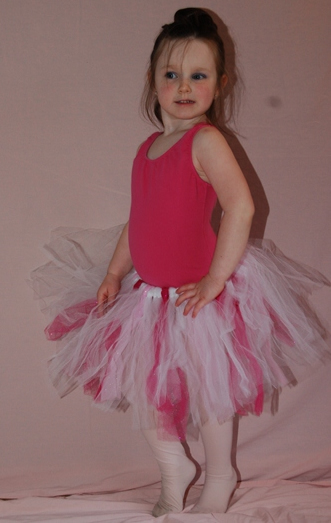 Materials:
1/2" Wide elastic
Sewing machine or needle and thread
7 yards* of tulle or three 6" x 25' rolls of tulle
*You can use more or less tulle depending on what size tutu and how full you want it to be. Our green sample is made for a preschooler and is very full.
Craft Instructions
Measure around your child's waist and add 1 1/4". This is the measurement you need for your piece of elastic. [ex: child's waist that is 23" add 1 1/4" and cut 24 1/4"]
Bring the two ends of the elastic around forming a circle. Overlap the ends by 1 1/4" and securely stitch in place. Be careful not to twist the elastic as you bring it around.
If using the spools of tulle, cut them into 26" lengths. You will need at least 34 strips. If using tulle that is cut by the yard, cut it into 6" wide by 26" long strips. A rotary cuter with a self healing mat is a great help when cutting these strips. You should be able to get two strips across the width of the tulle.
Take one strip at a time. Fold the strip in half. Pass the fold in the tulle strip under the elastic circle. Pass the loose ends of the tulle through the fold in the tulle and gently pull the ends, knotting the tulle around the elastic. Continue adding strips of tulle to the elastic ring pushing them close together as you go until all of the elastic is covered and your tutu is at the desired fullness.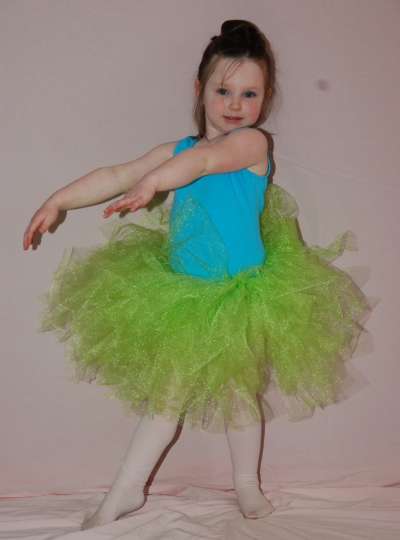 Note: Our pink and white sample was made using spools of tulle and the green tutu was made with tulle that was bought by the yard.