Description
Make an educational kids game from recycled egg cartons. It's Sudoku Colors where you play with nine different colors instead of numbers. Perfect game for the whole family. Great classroom activity for kids during indoor recess and they can have fun making it too.
Materials and Supplies
Craft Supplies:
8 Recycled egg cartons
Foam core board; 17 1/2" x 21"
81 Pompoms 3/4"; 9 each of 9 different colors
4 1/2 yards of either 3/8" wide or 1/2" wide ribbon
Tacky glue or hot glue
Permanent marker
You can substitute the pompoms for marbles or any other round colored object.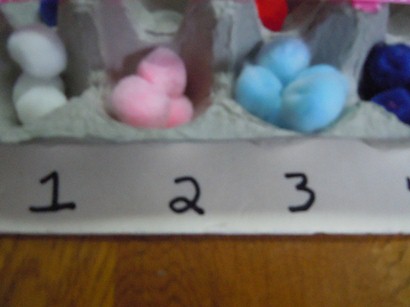 Craft Instructions
Cut a piece of Foam Core Board* to measure 21"h x 17 1/2" w.
Cut the lids and lips off of eight egg cartons.
Cut 3 of the egg cartons in half width wise so that you have 6 pieces each with 2 cups by 3 egg cups.
Lay out all of your egg cartons as follows - place one full egg carton in the top left corner of the foam core board. Line up the other four full egg cartons directly below the first one with long edges touching the one above it. At this point, you should have 1" or so of foam core showing below your last egg carton. Now lay 5 of the cut cartons to the side of the full egg cartons. Discard the 6th one or save it for another project. You should now have 10 rows of 9 egg cups (and little or no foam core board showing on either side of the cartons).
Once you are sure you have the layout correct, remove the cartons one by one and apply glue to the bottom of each egg cup and return to it's original position. Press down gently to be sure the glue has made contact with the foam core board.
Glue ribbon on top of the bumps that separate the egg cups in a tic tack toe pattern as pictured. Inside each square which is outlined by the ribbon, you should have 3 rows of 3 cups each (total of 9 cups per block). At the bottom, you will have a straight row of 9 cups. This is where you keep the pompoms before you play them. We will call it the home row.
Write the number 1 on the foam core board just below the first cup in the home row. Write the #2 below the second cup and so on until all 9 cups are numbered.
Place nine pompoms in each of the cups in the home row. Each cup should have 9 pompoms that are all the same color but no two cups can have the same color as each other. For our game, we used white, light blue, red, orange, green, pink, dark blue, yellow and purple.
*I bought my foam cord board at the local dollar store but most craft and department stores carry it (usually near the poster board).
To set the game up to play:
Choose any Sudoku puzzle from a Sudoku puzzle book. You can also find Sudoku puzzles free on line. I suggest starting with an easy one then working your way up in difficulty.
Look at the pre filled numbers in the puzzle. Everywhere there is a #1, place one of the pompoms from cup #1 in the corresponding cup on your board. Do the same with all the other numbers. (ex: if white is in cup #1, everywhere there is a #1 in the Sudoku game, place a white pompom in that spot.)
Once all your pre filled numbers have been represented by a colored pompom, you are ready to play Sudoku Colors.
How to play Sudoku Colors:
Each square (as marked off by the ribbons) needs to have 9 pompoms in it. One pompom of each color.
The trick is, each row of 9 going down and going across also have to have one each of the 9 colors. Be careful not to have more than one of each color in any given row, column and square.