Description
Home-made Play Dough
Cook up a batch of Fun Dough and watch your children's imagination go to work. This dough has a smoother, softer consistency than store bought dough and is non toxic. Once you use this play dough, you will not want to go back to the store bought dough.
Materials and Supplies
Craft Supplies:
2 Cups Flour
4 Teaspoons Cream of tarter
2 Cups Water
Liquid food coloring
2 Tablespoons cooking oil
Airtight plastic container with lid or quart size re-sealable plastic bag
Craft Instructions
In a bowl, mix together the flour and cream of tarter. Set aside.
Combine the water, oil and a few drops of food coloring* in a 3qt sauce pan. Heat on medium just until warm. Then, add the dry ingredients and stir quickly.
Continue stirring and cook on medium/low heat for another minute or two until the dough pulls away from the side of the pan.
Remove the mixture from the pan and knead it on a lightly floured surface until it is smooth. Cool completely before giving it to children to play with.
* For darker colors add more food coloring and use less food coloring for lighter shades.
For a longer life, between uses store in the refrigerator in a tightly sealed container or in a re-sealable plastic bag with the excess air squeezed out.
Idea: For an inexpensive gift, make some dough in different colors. Place each color in it's own disposable container and pair it with a mini-rolling pin and some cookie cutters. For an added bonus, print the recipe and include it with the gift.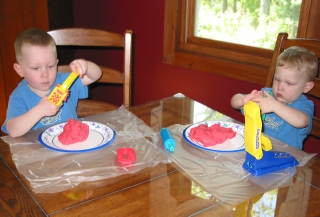 Liam and Declan enjoying their homemade dough.