Description
Make gourmet treats to give as gifts this Christmas. Dip pretzels and/or candy canes in chocolate for a decadent treat.
Click here for instructions on making Chocolate Dipped Spoons.
Materials and Supplies
Ingredients for Chocolate Candy Canes:
Candy canes
1 Cup chocolate morsels; semi sweet
1/4" or 1/2" wide ribbon
Plastic wrap
Double boiler or microwave safe dish
Stir a cup of hot cocoa with your chocolate candy cane for a wonderful cup of peppermint hot chocolate.
Ingredients for Chocolate Pretzels:
Pretzel Rods
1 Cup chocolate morsels
1/2" or 1" wide ribbon
Plastic wrap
Double boiler or microwave safe dish
Optional: Non pareils
Craft Instructions
Cover a cookie sheet with wax paper.
Melt the chocolates either in a double boiler or in a microwave.

If using a double boiler, I suggest putting the chocolate chips in either a smaller saucepan inside the double boiler or in a Pyrex measuring cup inside the double boiler. It is easier to dip if the chocolate isn't spread over a large area. Stir constantly and remove from heat as soon as the chips are melted.
If using the microwave, heat on high for one minute then take out and stir. If needed, heat at 10 to 15 second intervals just until melted.

Dip the ends of the Candy Canes or Pretzel Rods in the chocolate. When you lift them out of the chocolate, gently shake them side to side for a few seconds to remove any excess chocolate. It may be helpful to spoon the chocolate over the portion of the pretzel rod/ candy cane that you want dipped.
Place the candy canes and/or pretzels on the wax paper covered cookie sheet and place them in the refrigerator or freezer to cool and harden.
Once the chocolate is cool and hardened, wrap each pretzel rod/candy cane separately with plastic wrap.
For Candy Canes tie a bow around the wrapped candy cane.
For Pretzel Rods, if giving as a gift, bundle several individually wrapped pretzels together and tie a ribbon around the bundle.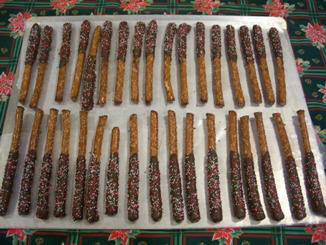 Optional: Before the chocolate hardens on the pretzels, sprinkle with non pareils.